Bio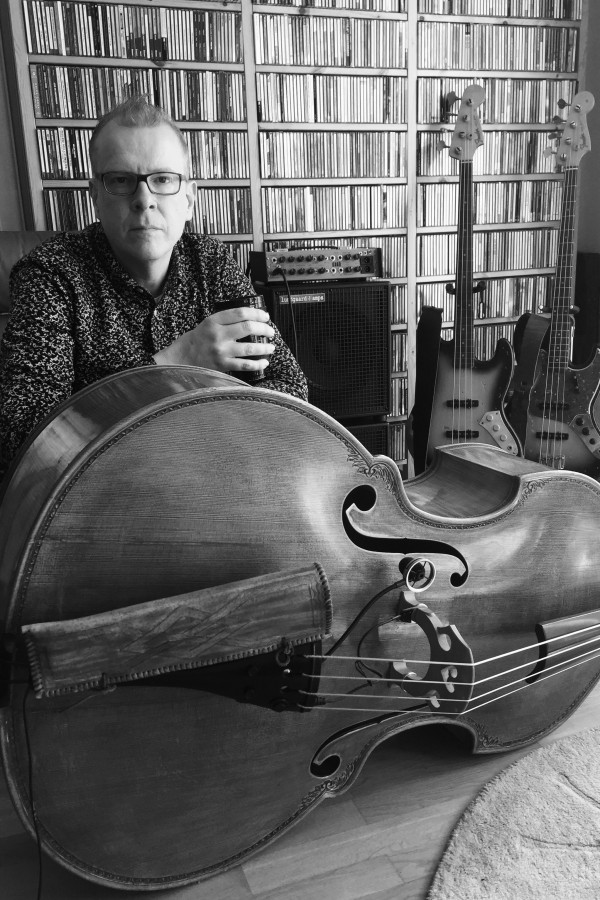 Hans Backenroth (born 1966 in Karlstad) began playing classical guitar and flute at eight years old at the municipal music school. Through his older brother Hans heard pop and rock music, which got him to pick up the electric bass and he soon started playing concerts at only 14 years old. With a constant curiosity to get to know and play new music, he discovered jazz at the end of his teens, which led him to play double bass influenced by, among others, Paul Chambers, Ray Brown, Scott LaFaro and NHØP. In 1986 Hans moved to Stockholm to study at the music department at Birkagarden college, followed by three years at the Royal Academy of Music, where he graduated in 1989 in both jazz and classical bass, arranging and improvisational education. During the final year Hans became a member of Fredrik Norén Band, with tours in Sweden, Indonesia, Malaysia and the Baltics, and soon he began to appear at Stockholm's jazz venues like Fasching and Stampen and at many jazz clubs around Sweden.
In 1991 he was invited to play with the clarinet virtuoso Putte Wickman's Q in the United States and Canada to replace the bassist Red Mitchell. It was an almost four week tour, with concerts at the Monterey Jazz Festival, where Hans played with trumpeter Harry "Sweets" Edison, and at the Sweet Basil jazz club in New York.
During this tour, Hans was discovered by the legendary alto saxophonist and clarinettist Arne Domnérus, resulting in a musical union that lasted more than 15 years.
"Hans Backenroth is maybe the best bass player Sweden has ever developed!" - Arne Domnérus, Alto saxophone and clarinet, Swedish jazz legend
At the same time bassist Sture Åkerberg also got to hear about Hans and became a mentor to him. On Sture's recommendation Hans was appointed as his deputy by a number of distinguished artists, including Monica Zetterlund, whom Sture had played with since the 60s. One thing led to another and Hans soon appeared in groups with guitarist Rune Gustafsson, vibraphonist Lars Erstrand, saxophonists Hacke Björksten and Ulf Andersson, drummer Rune Carlsson and others.
For several years pianist Bengt Hallberg had been inactive on the jazz scene, but in 1996 he contacted Hans to record a duo CD that would be entitled "In a Mellow Tone"  (Improkomp). That recording became Bengt's return to the world of jazz and after the release Bengt and Hans continued to play together in a series of duo concerts.
In 1995 Hans become the bassist in the Monica Zetterlund Q which also led to several tours, recordings and television programmes over four years and Hans also participated in what became Monica's last appearance (Eskilstuna in 1999).
"To play almost every day with these musicians was the best school I could get - to learn the music right from the source. Although many I played with were much older than myself, there was just the same curiosity and hunger as among us younger musicians. I never felt the need to play like someone else, the thing was to find my own voice. And that's just what tradition is - learning from the old masters and from that forming a personal language. From Kjell Öhman I learned a lot as he brought me in all conceivable contexts, which in some cases were far from jazz. And in parallel with all of this I played with my compassionate companions. "
Since the mid 90s Hans has been considered to be one of Scandinavia's premier bassists. In addition to the above constellations he has played with Bernt Rosengren Q, Sweet Jazz Trio, Kjell Öhman Trio, Karin Krog/Scott Hamilton Q, Ken Peplowski Scandinavian Quartet, Ulf Wakenius Q, Claes Janson, Bosse Broberg "Nogenja Soloist Ensemble" , Hacke Björksten "Three Generations" and with a large number of artists like Rebecka Törnqvist, Svante Thuresson, Lill Lindfors, Sissel Kyrkjebø and Kalle Moraeus.
"Backenroth is one of Sweden's most sought after bassists and you can easily understand why. He's got everything that one needs - open ears, firm swing and an extraordinary technique! ...
He is widely employed as studio musician and has been heard on discs by artists such as Olle Adolphson and Wilmer X and also recorded film music and music for commercials. He regularly works with choirs and has collaborated with the Swedish Radio choir, Gustaf Sjökvists Kammarkör and Chor des Bayerischen Rundfunk in Munich.
Internationally he has collaborated with many of the leading names in jazz, including Harry "Sweets" Edison, Toots Thielemans, Clark Terry, Scott Hamilton, Harry Allen, Buddy DeFranco, James Moody, Kenny Barron, Benny Green, Horace Parlan, Roger Kellaway, Larry Willis, Junior Mance, Deborah Brown, Karin Krog, Rolf Ericson, Georgie Fame, Eddie Daniels, Rebecca Kilgore, Alex Riel, Ed Thigpen, Joe Harris, Bobby Durham, Martin Drew, Ernie Watts, Eddie Harris, Doug Raney, Houston Person, Ken Peplowski, Jim Rotondi, Najponk, Lorne Lofsky, Svend Asmussen, Knut Riisnæs, Jim Snidero, Jeremy Pelt, Bobby Shew, Ole Kock Hansen, Jesper Thilo, Roy Williams, Dan Barrett, Valery Ponomarev, Antti Sarpila, Leroy Jones, Jimmy Greene, Warren Vaché, Richard Boone, Champian Fulton, Butch Miles, Bernard Purdie, Vladimir Shafranov, Bob Wilber, Stéphano Belmondo & Veronica Swift.
"Hans is one of the best bassists I've played with throughout my career." - Junior Mance, Jazz piano legend
The chamber jazz ensemble Sweet Jazz Trio (Lasse Törnqvist cornet, Mats Larsson guitar and Hans on bass) is one of the European jazz groups that proved to be a great success in Japan. The group has recorded 14 records for the Japanese market and made close to ten tours in the country. Besides that they have done constant tours throughout Scandinavia since 1995.
Kjell Öhman and Hans started playing together in 1992 and Kjell is perhaps the musician with whom Hans has worked the most. They played together with Arne Domnérus, Rune Gustafson, Claes Janson, Ulf Wakenius and Jan Allan, as well as in studio and large orchestras. Kjell Öhman Trio recorded two trio discs and featured as a rhythm section on a series of recordings by artists such as Bobby Shew, Meta Roos and Bertil Jonasson.
"Hans has an exceptionally good timing, which suits my taste just perfect. Also he is a solist without limits thanks to his excellent technique. He is also a great person and friend!" - Kjell Öhman, piano, Hammond B3, arranger, composer
With the saxophonist Bernt Rosengren, Hans has played since 1987 in different constellations, from trio to big band. Bernt has long been considered one of Europe's most influential musicians and has been awarded a wide range of awards. The current quartet has been playing together since 2000 and Hans has produced the group's four recordings, of which the album "I'm Flying" (pb7) was featured as the 2009 album of the year in the jazz magazine Orkesterjournalen. The group has been named one of Sweden's premier jazz groups and has frequently performed in Sweden, Norway and Denmark.
"When the music sometimes opens to Backenroth's bass lines, it's like listening right into the control room of a power station; it gives an almost shocking sense of power, with his fellow musicians' comments on the outskirts. Can quartet jazz be played better?"
Hans can be heard on about 150 CDs; see discography. In 2009 he made his first solo CD "Bassic Instinct" (pb7) with four different groups: a quartet consisting of Bernt Rosengren, Jacob Fischer and Roger Johansen; duos with Georg Riedel and Kjell Öhman; and solo bass. The first track on the record is a suite for two double basses, written by Georg on behalf of Arne Domnérus. The album got a lot of attention and was high on the list for jazz record of the year in 2009.
Hans has toured Scandinavia, Europe, the USA and Japan, played at venues such as Carnegie Hall (NYC), Sweet Basil (NYC), Ronnie Scotts (London), Blue Note (Nagoya), Body & Soul (Tokyo) and received the following awards:
• The Orkesterjournalens Award "Golden Disc of the Year" twice for participation on Arne Domnérus & Bernt Rosengren "Face To Face" (Dragon, 1999) and Bernt Rosengren Q "I'm Flying" (pb7, 2009).
• The Swedish Art Grants Commitee scholarship (1993)
• Gold record for participation on Rebecka Törnqvist "A Night Like This" (EMI 1993)
• Nalens Friends Award "Topsy's Tusenkrona" (2000)
• Wermländska Sällskapets Culture Award (2016)
• Swedish Musicians Union Award (2019)
Hans was also nominated as "the musician of the year" in the Jazz Radio, Sweden national Radio P2 in both 2015 and 2016.
Since 2015 Hans has been bassist and bandleader at Skinnarspelet in Malung, for Rune Lindström with music by Jan Johansson, and in the house trio for the jazz series Blå Måndag på Skansen. These are two roles that Hans took on after Kjell Öhman.
"The bassist Hans Backenroth's mighty sound and virtuoso solos were met by waves of appreciation from the audience."
With a great interest in teaching and dedication to young musicians, Hans is a popular and busy teacher, with private students from all over Scandinavia, master classes and teaching in both electric and double bass at the Music Academy in Stockholm during 1994-1999 and in double bass and ensemble since 2005 at the music school in Piteå.
Besides the music Hans has done several interviews with Scandinavian jazzmusicians for Orkesterjournalen and has also written articles for the Swedish music magazine Lira.