Bio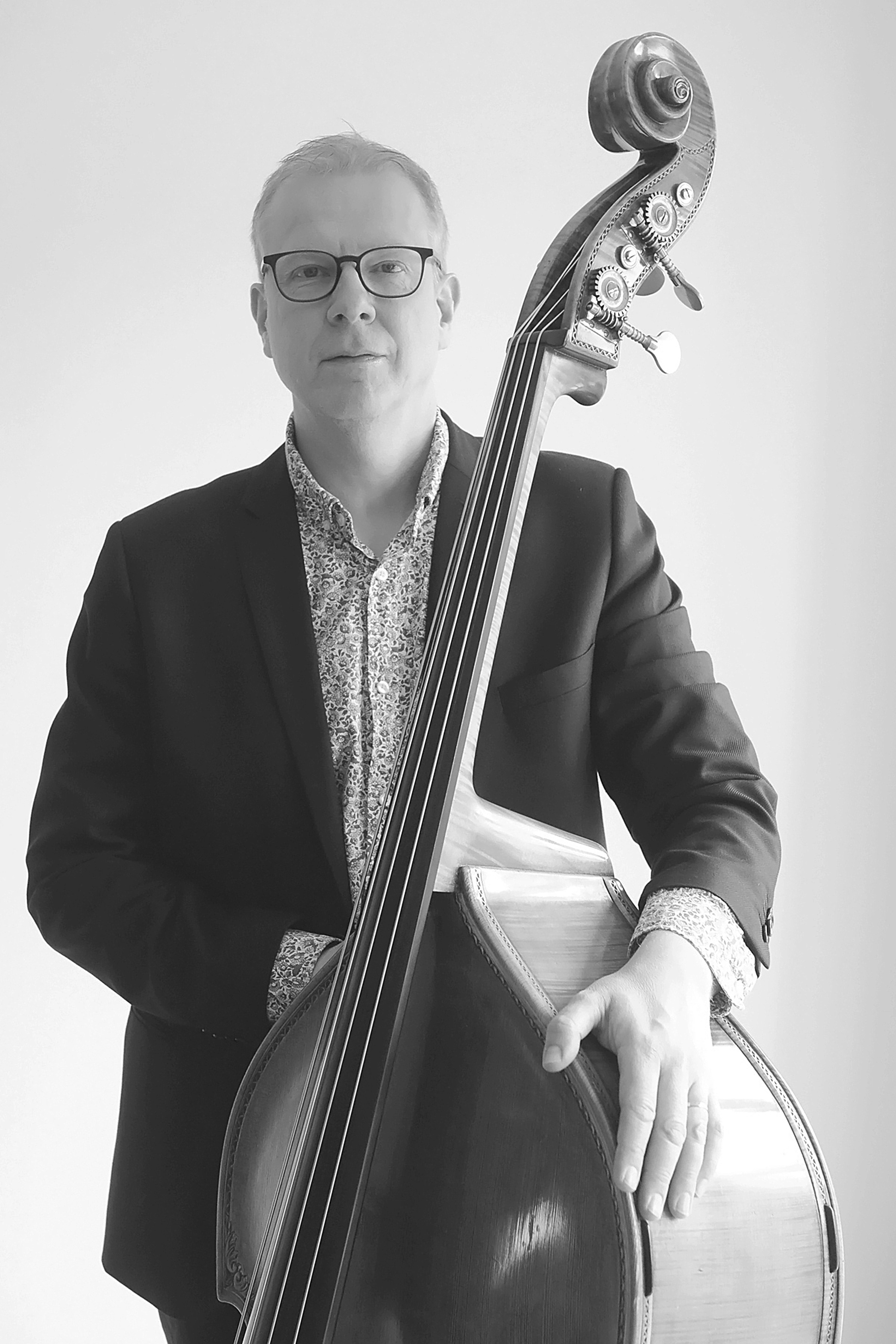 Hans Backenroth (born 1966 in Karlstad) began playing classical guitar and flute at eight years old at the municipal music school. Through his older brother Hans heard pop and rock music, which got him to pick up the electric bass and he soon started playing concerts at only 14 years old. With a constant curiosity to get to know and play new music Hans discovered jazz in his late teens which led him to play double bass influenced by, among others, Paul Chambers, Ray Brown, Scott LaFaro, NHØP, Jesper Lundgaard & George Mraz. In 1986 Hans moved to Stockholm to study at the music department at Birkagarden college, followed by three years at the Royal Academy of Music, where he graduated in 1989 in both jazz and classical bass, arranging and got degree in teaching improvisation. Hans then became a member of drummer Fredrik Norén Band and soon began to appear at Stockholm's jazz venues like Fasching and Stampen and jazz clubs around Sweden.
In 1991 he was invited to play with the clarinet virtuoso Putte Wickman's Q in the United States and Canada to replace the bassist Red Mitchell. The tour lasteed for four weeks with concerts at the Monterey Jazz Festival, where Hans played with trumpeter Harry "Sweets" Edison, and the final gigs were in New York at the legendary Sweet Basil jazz club.
During this tour, Hans was discovered by the legendary alto saxophonist and clarinettist Arne Domnérus, resulting in a collabration that lasted more than 15 years.
"Hans Backenroth is maybe the best bass player Sweden has ever produced!" - Arne Domnérus, Alto saxophone and clarinet, Swedish jazz legend
Swedish bassist Sture Åkerberg also got to hear about Hans and recommended him to the legendary singer Monica Zetterlund. 
In 1996 Hans recorded a duo-album with pianist Bengt Hallberg entitled "In a Mellow Tone". That recording became Bengt's return to the world of jazz and after the release Bengt and Hans continued to play together in a series of duo concerts.
In 1995 Hans become the bassist in Monica Zetterlund Q which also led to several tours, recordings and television programmes for four years. Hans also participated in what became Monica's last appearance in 1999.
Since the mid 90s Hans has been considered to be one of Scandinavia's premier bassists!
He is widely employed as studio musician and has been heard on discs by artists such as Olle Adolphson and Wilmer X, collabrated with a large number of artists like Rebecka Törnqvist, Svante Thuresson, Lill Lindfors, Björn Skifs, Sissel Kyrkjebø, Sven-Bertil Taube and Kalle Moraeus, recorded music for films and music for commercials. He regularly works with choirs and has collaborated with the Swedish Radio choir, Gustaf Sjökvists Kammarkör and Chor des Bayerischen Rundfunk in Munich.
Internationally he has collaborated with many of the leading names in jazz, including Harry "Sweets" Edison, Toots Thielemans, Clark Terry, Scott Hamilton, Harry Allen, Buddy DeFranco, James Moody, Kenny Barron, Benny Green, Horace Parlan, Roger Kellaway, Larry Willis, Junior Mance, Deborah Brown, Karin Krog, Rolf Ericson, Georgie Fame, Eddie Daniels, Rebecca Kilgore, Alex Riel, Lewis Nash, Ed Thigpen, Joe Harris, Bobby Durham, Martin Drew, Ernie Watts, Eddie Harris, Doug Raney, Houston Person, Ken Peplowski, Jim Rotondi, Najponk, Lorne Lofsky, Svend Asmussen, Knut Riisnæs, Jim Snidero, Jeremy Pelt, Bobby Shew, Ole Kock Hansen, Jesper Thilo, Roy Williams, Dan Barrett, Valery Ponomarev, Antti Sarpila, Leroy Jones, Jimmy Greene, Warren Vaché, Richard Boone, Champian Fulton, Butch Miles, Bernard Purdie, Vladimir Shafranov, Bob Wilber, Stéphano Belmondo, Silje Nergaard, John Surman & Veronica Swift.
"Hans is one of the best bassists I've played with throughout my career." - Junior Mance, Jazz piano legend
The chamber jazz ensemble Sweet Jazz Trio (Lasse Törnqvist cornet, Mats Larsson guitar and Hans on bass) is one of the European jazz groups that proved to be a great success in Japan. The group has recorded 14 records for the Japanese market and made close to ten tours in the country. 
Kjell Öhman and Hans started playing together in 1992 and Kjell is perhaps the musician with whom Hans has worked the most. They played together foremost in jazzcontexts but also worked together much in studios - recordings and projects with orchestras a o. 
"Hans has an exceptionally good timing, which suits my taste just perfect. Also he is a solist without limits thanks to his excellent technique. He is also a great person and friend!" - Kjell Öhman, piano, Hammond B3
With saxophonist Bernt Rosengren, Hans has played since 1987 in different constellations. Bernt's current quartet has has been named one of Sweden's premier jazz groups and played together since 2000. Hans has produced the group's four recordings and the album "I'm Flying" was elected as the 2009 album of the year in the jazz magazine Jazz/Orkesterjournalen. 
Hans can be heard on about 150 CDs; see discography. In 2009 he made his first solo CD "Bassic Instinct". The first track on the record is a suite for two double basses, written by Georg on behalf of Arne Domnérus. In 2021 Hans released "Parker's Mood" which raved huge success - voted as the third best recording in 2020 by Jazz/Orkesterjournalen and were selected as the best tribute-album in 2020 by musicmagazine Lira.
Hans has toured Scandinavia, Europe, the USA and Japan, played at venues such as Carnegie Hall (NYC), Sweet Basil (NYC), Ronnie Scotts (London), Blue Note (Nagoya), Body & Soul (Tokyo) and received the following awards:
• The Orkesterjournalens Award "Golden Disc of the Year" twice for participation on Arne Domnérus & Bernt Rosengren "Face To Face" (1999) and Bernt Rosengren Q "I'm Flying" (2009).
• The Swedish Art Grants Commitee scholarship (1993)
• Gold record for participation on Rebecka Törnqvist "A Night Like This" (1993)
• Nalens Friends Award "Topsy's Tusenkrona" (2000)
• Wermländska Sällskapets Culture Award (2016)
• Swedish Musicians Union Award (2019)
Hans was also nominated as "musician of the year" in the Jazz Radio, Sweden national Radio P2 in both 2015 and 2016.
Since 2005 Hans has been bassist at Skinnarspelet in Malung, by Rune Lindström with music by Jan Johansson, and since 2015 he is also in charge of the music. Hans is in charge of the summer series "Jazz på Skansen" in Stockholm. 
With a great interest in teaching and dedication to young musicians, Hans is a popular and busy teacher, with private students from all over Scandinavia, master classes and teaching in both electric and double bass at the Music Academy in Stockholm during 1994-1999 and in double bass and ensemble since 2005 at the music school in Piteå.
Besides the music Hans has done several interviews with Scandinavian jazzmusicians for Orkesterjournalen and has also written articles for the Swedish music magazine Lira.